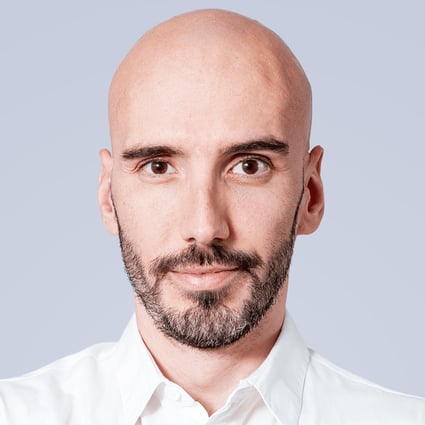 Adrien Valesa
Verified Expert in Design
Designer
Toptal Member Since
November 5, 2019
Adrien is a French UX designer with more than 13 years' experience in design, user experience, interaction design, and visual identity across a broad range of industries. He's had the opportunity to work with big accounts such as LEGO Education and MIT. He applies user-centered methodologies to help internal and external teams write product requirements to deliver research insights, experience maps, information architecture, and wireframes.
Work Experience
2022 - PRESENT
UX Researcher
Owens Corning
Applied a mix of qualitative (interviews, observation) and quantitative (mid-scale surveys, insights from product data) methods to analyze user or product data and distill this into written and visual reports such as slide decks, storytelling, and more.
Represented user needs through delivering engaging and clear insights, and actionable recommendations to the team, filing bugs, and following up on solving critical user journeys.
Partnered with product managers, marketing professionals, and designers to understand research needs, design a new product, or enhance an existing feature.
Technologies: Mixed Method Research, Insight Reporting, User Personas, Data Analysis
2021 - 2022
Product Designer | UX Researcher
Roche
Partnered with the strategy and innovation manager to define suitable research methodologies to understand the core users.
Organized and conducted remote co-creation workshops to gather internal requirements from stakeholders using Miro.
Defined protocol and moderate user testing to evaluate design solutions.
Collaborated with product managers, engineers, marketing professionals, and designers to understand research needs and design a new product.
Technologies: Optimal Workshop, Figma, Maze
2019 - 2019
Interaction Designer
OSTC-ZISHI Consultant
Designed the guidelines of a human resource tool facilitating the recruitment of new traders in the company using AI and data visualization through dashboards, tables, and charts.
Designed and enhanced all the components such as tables, charts, panels, and filtering options from existing low-fidelity wireframes.
Collaborated with the team's front-end developer to implement the components created using Bootstrap due to technical limitations.
Worked on the art direction of the illustrations contained in the tool to add storytelling to the user experience.
Designed micro-interactions and animations of the applications.
Technologies: Vue, Web App Design, Bootstrap, Anima, Framer X, Sketch
2018 - 2019
UX Designer Consultant
Polymatica
Worked closely with the UX design lead and UX researcher to transform the insights from their end users into a more modern and usable product applying UCD methodology.
Partnered with the UX researcher employing a wide range of user research techniques such as quantitative research, qualitative research, usability testing, surveys, interviews, personas, user flows, and heuristic analysis.
Created wireframes and prototypes from research insights and got feedback from the Market assisting the UX researcher defining user testing KPI's and protocol.
Collaborated with Polymatica's design team to understand the end user needs in order to build a data science tool for citizen data scientists applying user-centered process designs to enable highly usable and accessible products for their clients.
Worked closely with the development team to implement the new product.
Technologies: Web App Design, Marvel, Principle, Zeplin, Sketch
2017 - 2018
UX/UI Designer
BQ
Led the Camera 4.0 project that aimed to enhance the user experience of the camera and in particular, the accessibility of various camera modes and filters.
Conducted market and user research to understand capabilities, requirements and define user flows that were easy to use and understand.
Developed hi-fi prototypes and conducted user testing to assess performance and created all assets in collaboration with the development team.
Defined the userflows.
Wireframed all screens.
Technologies: Principle, ProtoPie, Zeplin, InVision, Sketch
2009 - 2016
UI Designer Consultant
LEGO Education
Led the creative development for Minstorms EV3, an educational software using agile development that effectively increases sales up to 70% compared with the previous product and simplified the usability of the product for younger age groups.
Rebranded and launched LEGO Wedo2.0, educational software for younger audiences and recognized at the CES 2016 Best Maker-Friendly Technology Award.
Collaborated with key stakeholders to understand business requirements and develop solutions that will align with their core business objectives whilst utilizing best in class technology to define their brands and enhance market visibility.
Performed the technical follow up with the developer team based in Austin (TX) for implementation.
Designed a custom UI library and used that for designing high-fidelity mockups; also designed custom illustrations.
Technologies: User Interface (UI), Adobe Photoshop, Adobe InDesign, Adobe Illustrator
2013 - 2014
UX/UI Designer Consultant
MIT Media Lab
Readapted and branded the Scratch educational tool for a younger audience (4-6 years); Recognized in the Top 10 Technology Programs by the School Library Journal as well as reviewed by Wired Magazine for innovative concepts and design research in coordination with graphic development.
Completed user research and user testing on the icons of the programming language at Tufts University (A/B testing process).
Worked on micro interactions and transitions concepts.
Worked closely with engineering to ensure high-quality implementation of the user interface and outstanding user experience.
Created user journeys and wireframes.
Technologies: Wireframing, User Experience (UX), Adobe Photoshop, Adobe Illustrator, Sketch
Education
2021 - 2022
Bachelor's Degree in Sociology | Anthropology
Université Toulouse Jean Jaurès - Toulouse, France
2006 - 2008
Bachelor's Degree in Graphic Design
Saint Joseph Les Maristes - Marseille, France
Certifications
SEPTEMBER 2019 - PRESENT
UX Design - Certification Gobelins
Les Gobelins Paris